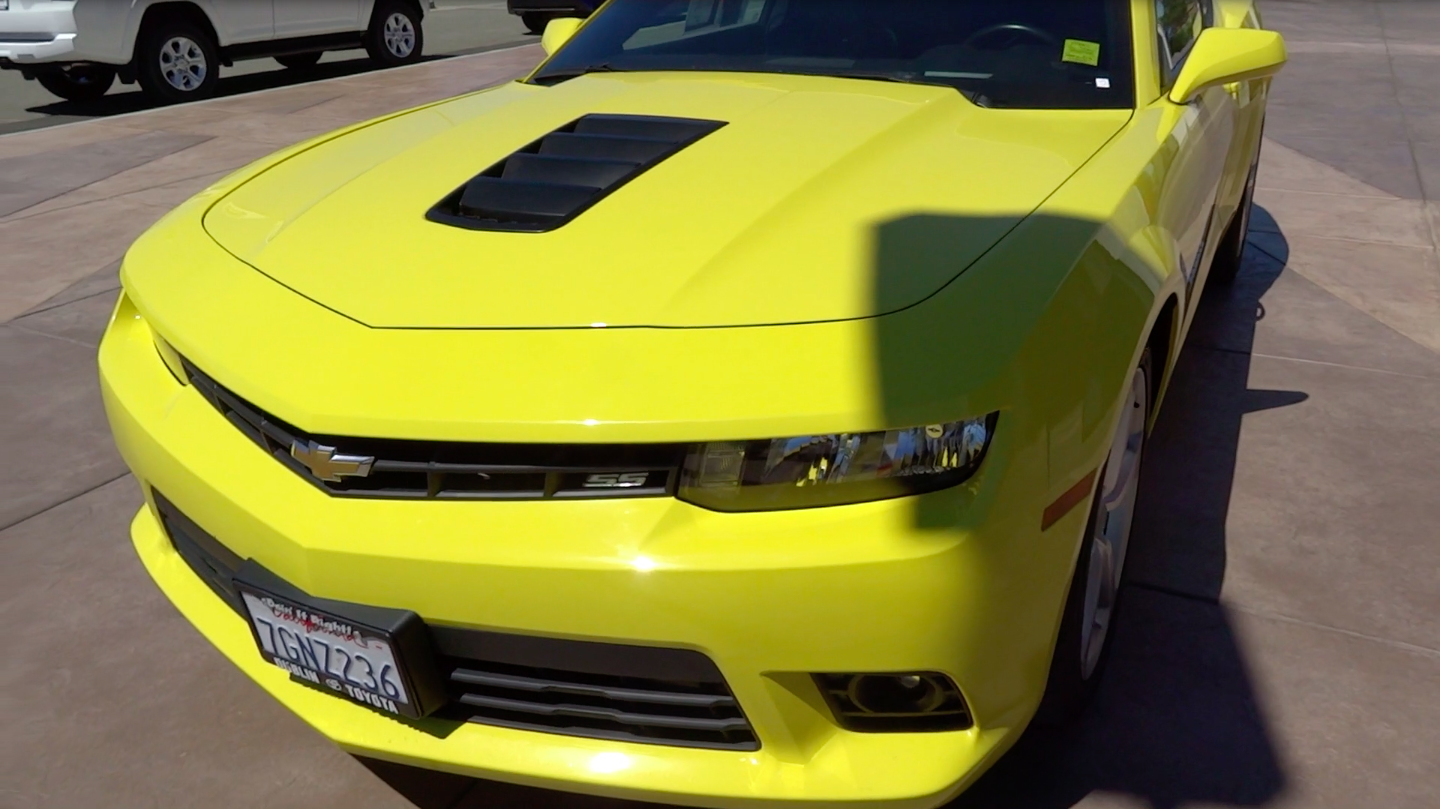 ---
15 December 2017, Neil Parkhi
---
Introduction
The Chevrolet Camaro is one of the best muscle cars out there. Even though this generation here has been replaced with a new one, the fifth generation Camaro is not only a really quick muscle car, but also sound really nice. The Camaro in this generation also comes in a lot of unique special edition packages.
Heritage
The Chevrolet Camaro os one unique kind of muscle car. The Fifth Generation Camaro had a lot of offerings available, even more than the Fifth Generation Ford Mustang. The Baseline Camaro was very basic had none of Chevrolet's MyLink System, Cloth Seats, and the difference between the 1LS and 2LS was the Gearbox. The 1LS had the manual, while the 2LS had the automatic. Then came the LT. The LT and SS Models were alike. the difference between the LT and SS, is that the LT had the V6 like the LS, and the SS had the 6.2 Liter V8, and the manual on the V6 was different from the V8. The 1LT and 1SS had cloth seats, and it was cheaper than the 2LT and 2SS which had all of the neat goodies. After that came the ZL1, the ZL1 was the most powerful Camaro ever produced, as it had a 580 horsepower 6.2 Liter Supercharged LSA V8, and it had Black Leather Seats with Suede Microfiber Accents. The Transmissions were shared with the SS. The Z28 was the top of the line with a 7.0 Liter LS7 V8 shared with the 6th Generation Corvette Z06 and 427 Convertible. It had just 507 horsepower and was designed for the track, and had no MyLink system either. The Z28 had the Tremec TR6060 Gearbox with no automatic gearbox available.
Review
I personally have been a big fan of the Camaro for more than a year, and it is able to maintain being a great car. I have liked it since its release and it is able to do its job really well. It really has that muscular sound and speed. Now the L99 I am slightly disappointed about the fact that it has less power because of having an automatic gearbox, especially because the LS3 which is offered in the manual gearbox model has more power, but also sounds better than the L99.
Specifications
| Steering and Transmission | |
| --- | --- |
| Steering Type | Speed Proportional, Electric Assist, Rack and Pinion Power Steering |
| Transmission Type | 6-Speed GM 6L90 Electronically Controlled Automatic |
| Gear 1 Ratio | 4.03 |
| Gear 2 Ratio | 2.36 |
| Gear 3 Ratio | 1.53 |
| Gear 4 Ratio | 1.15 |
| Gear 5 Ratio | 0.85 |
| Gear 6 Ratio | 0.67 |
| Reverse Gear Ratio | 3.06 |
| Wheels and Tires | |
| Front Wheel Type | 20 x 8 inch 5 spoke alloys |
| Rear Wheel Type | 20 x 9 inch 5 spoke alloys |
| Front Tire Type | 245/45R20 |
| Rear Tire Type | 275/40R20 |
| Suspension | |
| Front Suspension Type | Independent Double Wishbone |
| Rear Suspension Type | Independent Multi-Link |
| Suspension Features | Stabilizer Bars, Coil Springs, Gas Pressurised Shock Absorbers |
| Dimensions | |
| Length (in, mm) | 190.6in, 4841mm |
| Width (in, mm) | 75.5in, 1918mm |
| Height (in, mm) | 54.2in, 1377mm |
| Wheelbase (in, mm) | 112.3in, 2852mm |
| Weight (lb, kg) | 3935lb, 1785kg |
| Engine Specifications | |
| Engine Type | 6.2 litre 16 valve L99 V8 |
| Power (bhp, PS, kW) | 400bhp, 406PS, 298kW @ 5900RPM |
| Torque (lb-ft, Nm) | 410lb-ft, 556Nm @ 4300RPM |
| 0-60 mph (0-97 kmph) | 5.3 seconds |
| Drivetrain | Rear Wheel Drive |
| Fuel Tank Size (gal, L) | 19 gallons, 72L |
| Fuel Type (AKI, RON) | 91 Octane/AKI Petrol (95 RON) |
| City Fuel Economy (mpg, kmpL) | 16mpg, 7kmpL |
| Highway Fuel Economy (mpg, kmpL) | 24mpg, 10kmpL |
| Cargo Specifications | |
| Cargo Space (ft3, L) | 11.3ft3, 320L |
| Max. Cargo Space (ft3, L) | 11.3ft3, 320L |
| Price Range | |
| U.S. Dollars | $37,305 |
| Canadian Dollars | $47,398 |
---